Introducing a new comprehensive definition of SRHR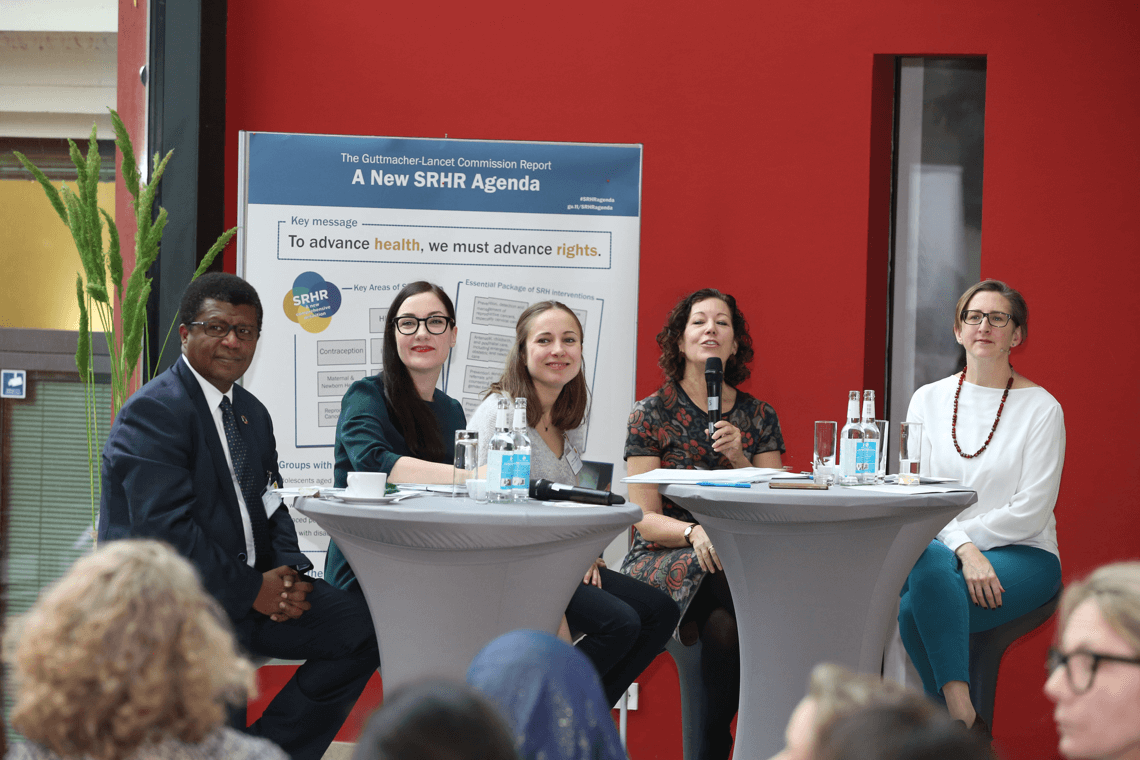 Ann Starrs, co-chair of the Guttmacher-Lancet Commission on SRHR, gave a brief overview of the Commission's report. The report, she said, provides a roadmap for people to come together as they move forward towards SRHR for all. The Cairo Programme of Action of the International Conference on Population and Development (ICPD) remains the foundational document on SRHR, but the Commission's tried to address SRHR comprehensively by creating a new, integrated definition of what sexual and reproductive health and rights are. This definition recognizes that sexual and reproductive rights are fundamental to sexual and reproductive health, and vice versa and takes into account the full range of people's distinct needs, including those of the most vulnerable groups.
A new integrated definition of sexual and reproductive health and rights
The new integrated definition by the Guttmacher-Lancet Commission recognises that achievement of sexual and reproductive health relies on the realisation of sexual and reproductive rights, which are based on the human rights of all individuals to:
have their bodily integrity, privacy, and personal autonomy respected;
freely define their own sexuality, including sexual orientation and gender identity and expression;
decide whether and when to be sexually active, choose their sexual partners, and have safe and pleasurable sexual experiences;
decide whether, when, and whom to marry;
decide whether, when, and by what means to have a child or children, and how many children to have;
have access over their lifetime to the information, resources, services, and support necessary to achieve all the above, free from discrimination, coercion, exploitation, and violence.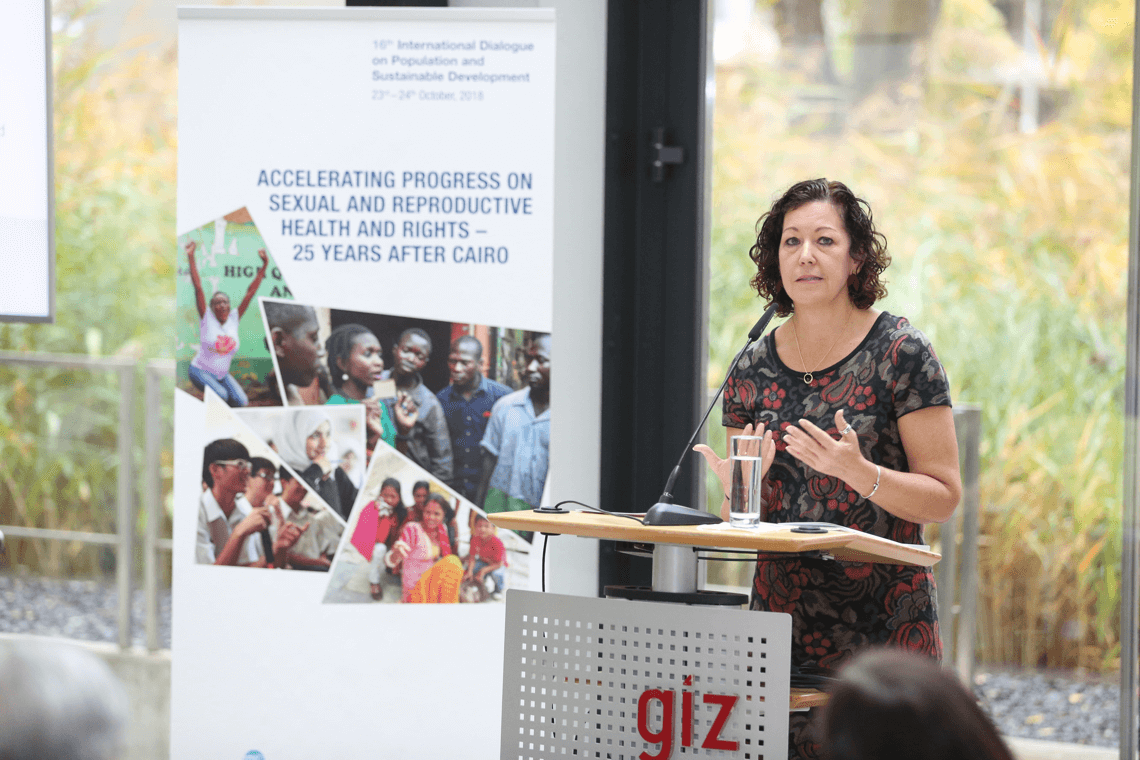 Grounded in evidence but rooted in human rights
The Commission's report, said Ann Starrs, is 'grounded in evidence, but rooted in human rights'. However, she noted with some concern that so far no official United Nations declaration has incorporated SRHR comprehensively. The Sustainable Development Goals of the 2030 Agenda entail sexual and reproductive health and reproductive rights, but sexual rights are not mentioned explicitly. 'One of the fundamentals of the Commission's report is to acknowledge that all these SRHR issues are interconnected,' she said. This includes sensitive issues such as abortion or the needs and rights of LBGTIQ* (lesbian, gay, bisexual, transgender, intersex, queer or questioning) groups that often block movement and consensus. These issues will need to be addressed in order to make further progress.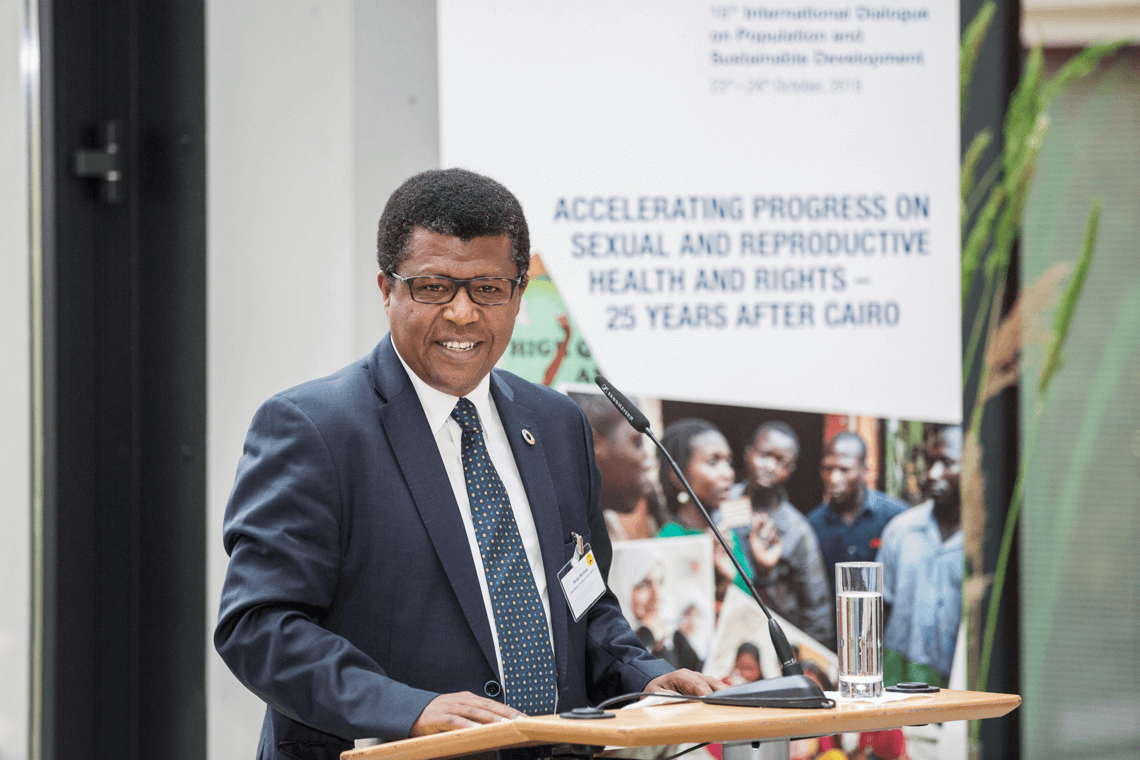 A 'battle for dignity and human rights'
Dereje Wordofa Gidda, the Deputy Executive Director of the United Nations Population Fund (UNFPA) reflected on the progress that had been made since the adoption of the Cairo Programme of Action. Previous progress, he said, had been too slow and uneven leaving the most vulnerable and poor people behind. Although there has been a global decline in maternal and child mortality by almost 50 per cent between 1990 and 2015, especially the most marginalised groups are still receiving poor health care services. Referring to the increased availability of family planning services worldwide, he pointed out that in Africa modern contraceptives are only available to 30 per cent of the people who need them. He also talked about the persistent difficulties of ending harmful practices such as female genital mutilation and the inadequate response to gender-based violence across the globe.
Despite such challenges Mr. Wordofa Gidda concluded by saying that he remains hopeful that solutions can be found. 'We are in the middle of a battle over dignity and human rights, but we believe the 25th anniversary of ICPD in Cairo is an opportunity to push the agenda forward.'
Accelerating progress and 'embracing complexity'
After these introductory presentations, Ann Starrs and Dereja Wordofa Gidda joined Adriana Domagala, SRHR Adviser for France's Ministry of Europe and Foreign Affairs, and Mina Barling, Director of External Relations for the International Planned Parenthood Federation (IPPF) in the United Kingdom, for a panel discussion. The panel considered progress made on SRHR issues in the 25 years that have elapsed since Cairo, and set the scene for further discussions on ways of accelerating this progress.
The task now, said Mina Barling, was how to translate the recommendations of the report into concrete and meaningful actions. She said that IPPF takes action by challenging the stigmas and taboos that remained in SRHR and that they work to ensure that a full range of essential services was available for everyone, including marginalised groups, throughout their lives. The Commission's report would, she said, enable participants to 'hold up a mirror' to their work and take stock of a full life-cycle approach. This means, for example, including older populations in an ageing world and ways of improving services to more diverse populations.
Amongst others, the report entails the following policy recommendations for implementation of SRHR at the national, regional and global level:
adopt and apply the new definition of SRHR;
expand access to the essential package of health interventions;
address gaps in health services;
take action on SRHR components often neglected in programme implementation;
provide additional support to groups that are often marginalized and disadvantage;
identify evidence gaps to address social, cultural and economic barriers;
secure sustainable financing and support for SRHR;
accountability to ensure these goals are met.
Adriana Domagala mentioned France's recent adoption of a new gender strategy and said that the Commission's new definition of SRHR would be useful as a handbook for evidence-based initiatives, such as exploring the linkages between health and education and gender-based violence. She also said that in a complex and increasing hostile political climate for SRHR alliances need to be strengthened. She gave the example of several West African countries coming together under the Ouagadougou Partnership to leverage better prices for bulk purchase of contraceptives.
Dereje Wordofa Gidda said that as part of the 25th anniversary of ICPD in Cairo, three successful regional reviews have already been held in Latin America, Eastern Europe and Central Asia, and Africa. The outcomes of the regional reviews will feed into the global review process in early 2019. What has been particularly striking about these events, he said, was the 'clear ownership by national governments' of the progress made so far, the need to accelerate this progress in the next five years and to facilitate the linkages of the ICPD Agenda and the 2030 Agenda for Sustainable Development.
A catalyst for bolstering rights
One of the emerging questions from the panel discussion was how to embrace complexity when complexity is hard to communicate, but participants felt the Commission's report would be a catalyst for raising standards and bolstering rights arguments. Dereje Worofa Gidda said, 'we need power of choice in the hands of those that need it most. The work we do needs to make a difference to people's lives.' As Mina Barling also pointed out, 'we can't do this without each other.' Ann Starrs wound up the panel discussion by referring to the tensions that sometimes exist between evidence and rights-based approaches. Starting with the evidence was often, she argued, the best way of getting a conversation going, and then rights issues can be addressed.