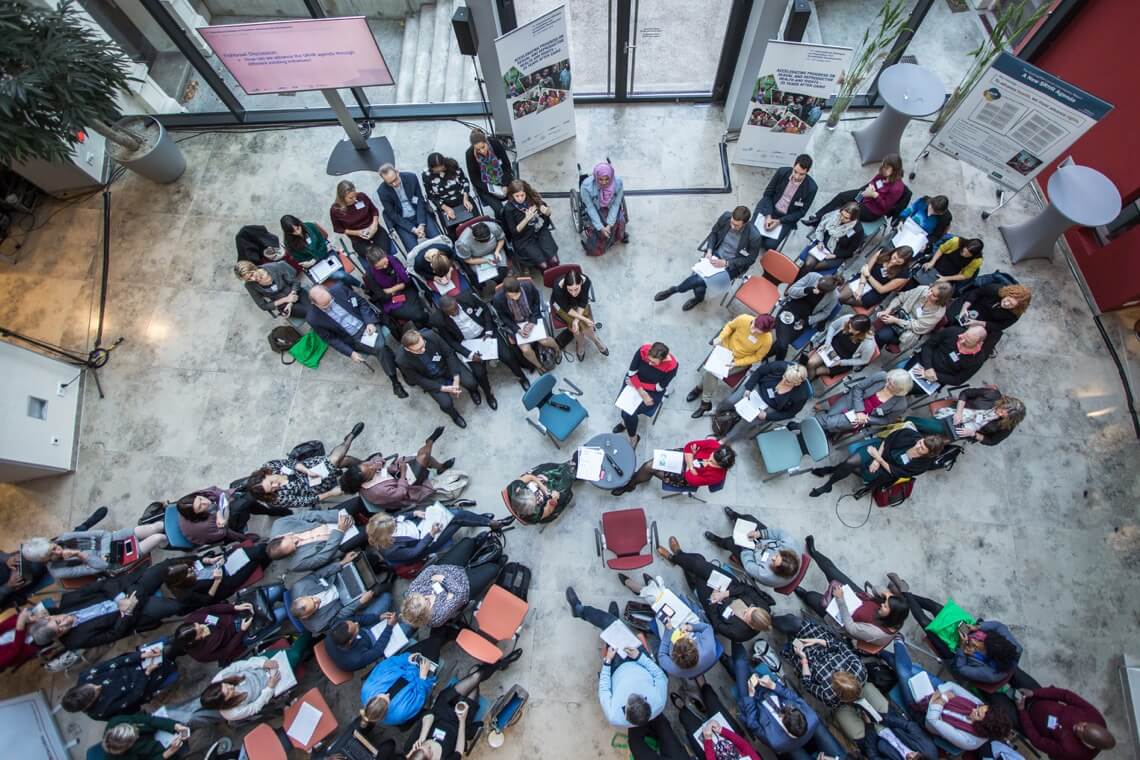 On the second day of the Dialogue, participants looked at ways of advancing the Guttmacher-Lancet Commission recommendations through existing initiatives and considered concrete projects, which relate to different aspects of sexual and reproductive health and rights.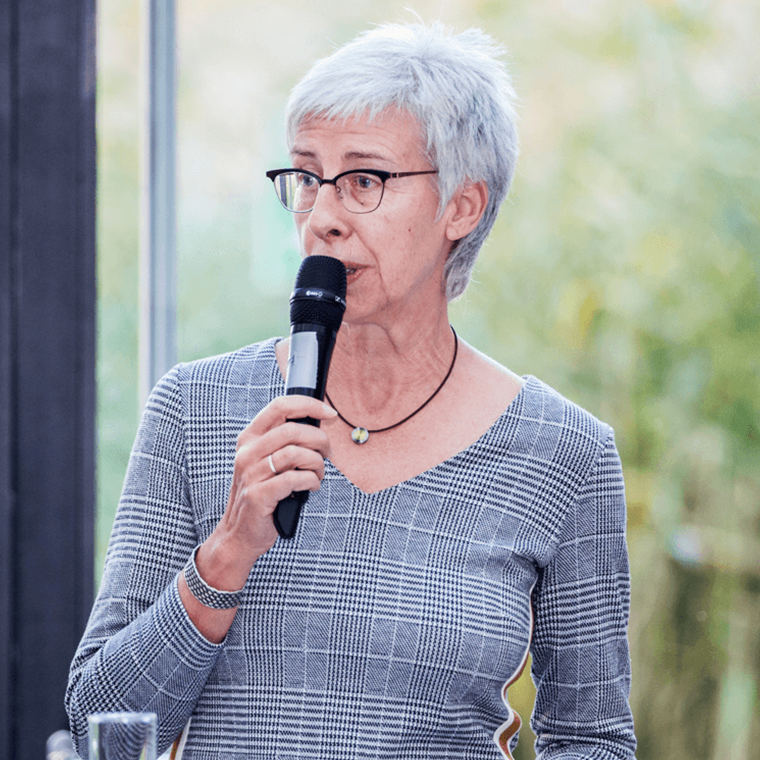 Renate Bähr, Executive Director of Deutsche Stiftung Weltbevölkerung in Germany, opened the day's proceedings by saying the world was lagging behind on Cairo's health agenda because rights issues had not sufficiently been taken into consideration. These, she said, are linked to social norms and customs. There had been some significant steps forward, such as the recent referendum on abortion in Ireland, and legalisation of same sex marriage by the German Parliament, but there was still much work to be done. 'We need to work together for SRHR,' she concluded, adding that it is also necessary to convince other development-actors that sexual and reproductive health and rights are fundamental to achieving the Sustainable Development Goals.
Learning from existing initiatives
A 'Fishbowl Discussion' was then held on how to advance the SRHR agenda through existing initiatives. Robin Gorna, Lead of the SheDecides Support Unit, and Ann Starrs, this time in her role as a board member of the Partnership for Maternal, Newborn and Child Health (PMNCH) joined moderator Heather Barclay in the 'fish bowl'. Two chairs were left empty for others who wanted to join in the debate on an ad hoc basis from the surrounding circle of participants.
Building partnerships to promote SRHR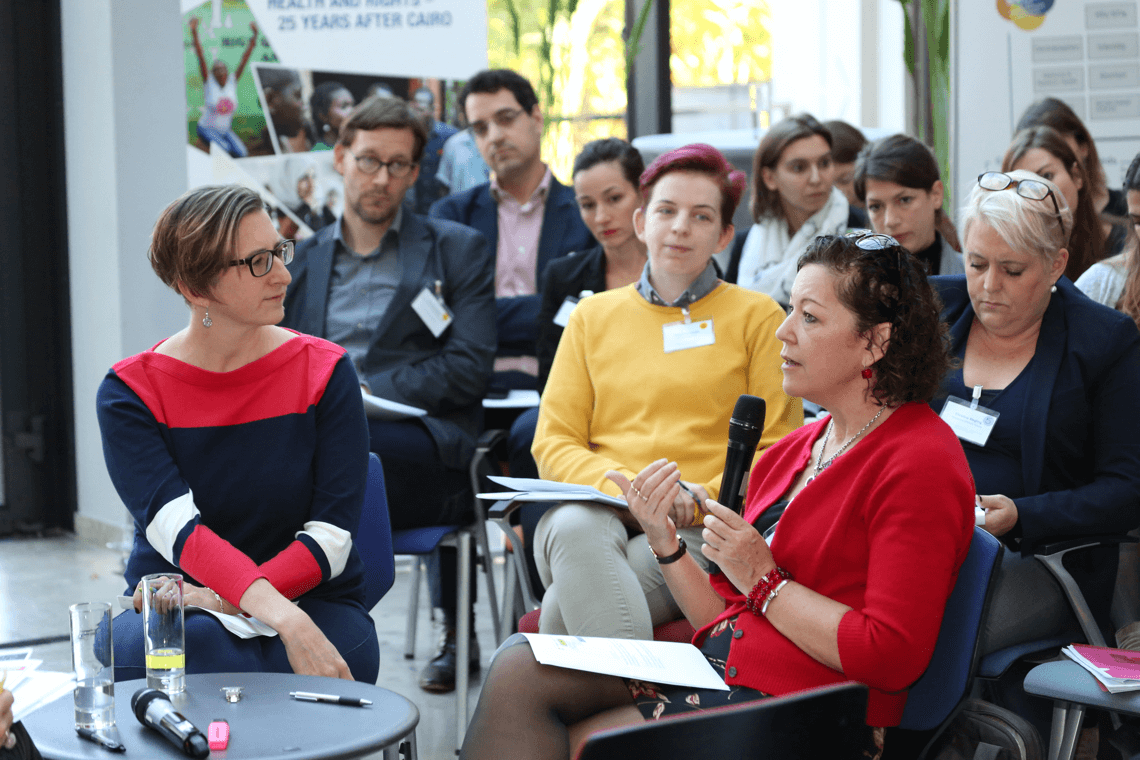 Ann Starrs began by explaining that PMNCH is a broad alliance of more than 1000 organisations in 192 countries to provide a platform for organisations to align objectives, strategies and resources, and agree on interventions to improve maternal, newborn, child and adolescent health. Advocacy, analysis and accountability of SRHR issues are now key areas of the Partnership's work, she said.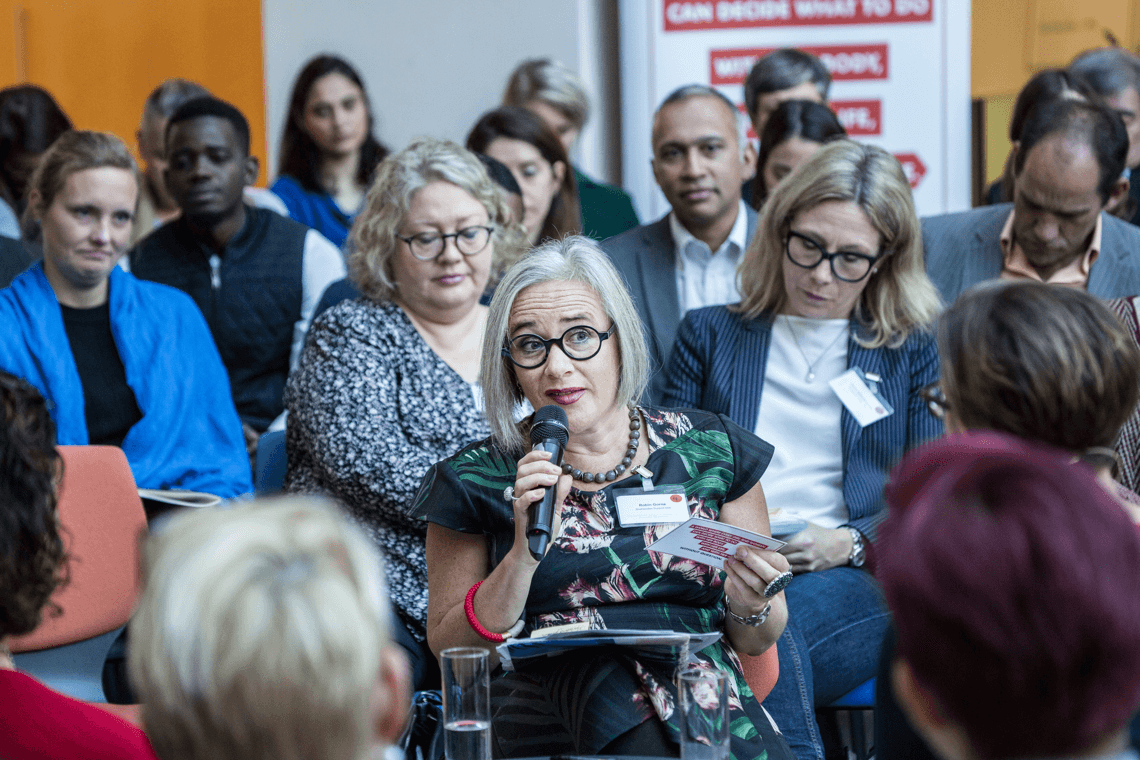 Robin Gorna then described the SheDecides movement's work to promote, provide, protect and enhance the fundamental rights of every girl and woman. She stressed that the new definition of SRHR drawn up by the Commission's report is already a fundamental tenet of SheDecides' manifesto of ensuring that all women should be able to determine what happens to their bodies, and decide when and with whom to have sex with: 'This choice is fundamental and cannot be compromised.'
The subsequent discussion largely focused on the tension between what was desirable and what was possible in local contexts.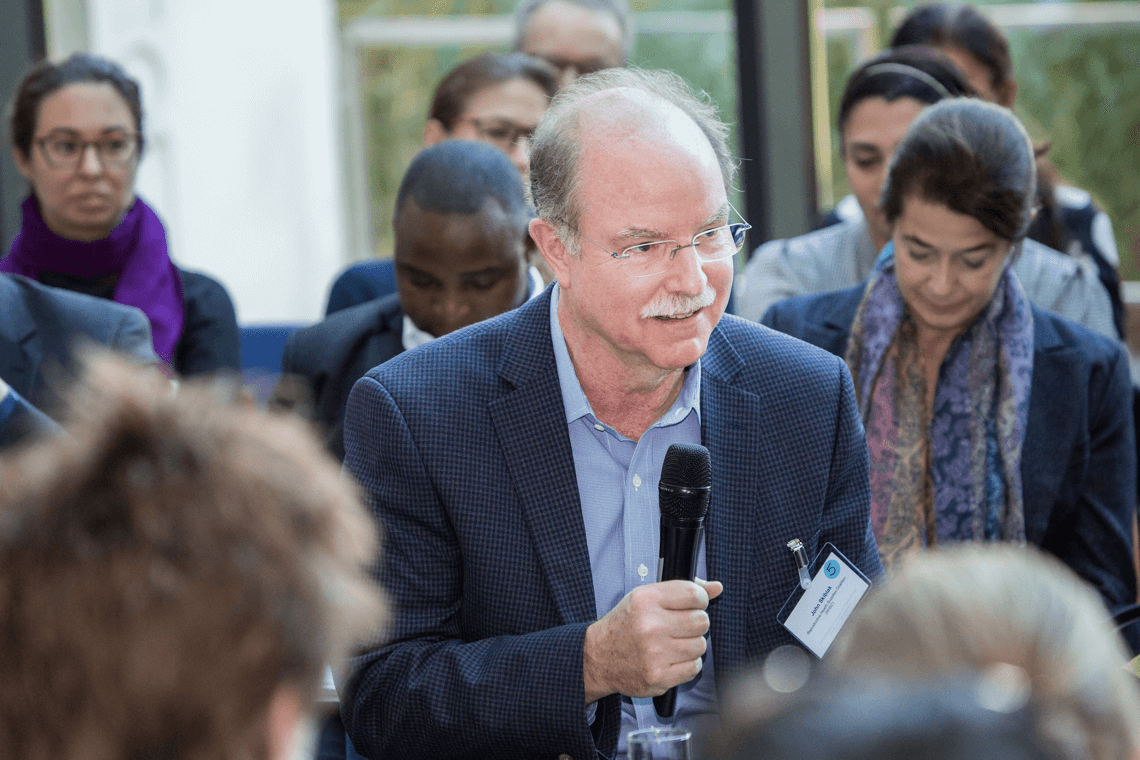 John Skibiak, Director of the Reproductive Health Supplies Coalition (RHSC), who joined the fishbowl later on, told delegates that his organisation had come into being in 2004 as a neutral space to allow players to address supply issues. 'We began with the premise that services are critical and supplies and crucial – accessibility, choice and quality are all dependent on supplies.' He highlighted that one of the areas that RHSC had been involved with in recent years was safe abortion and working to get regulatory agencies to improve standards. 'Many of those who take key decisions come with their on ideological perspectives,' he said. 'We are trying to work with them to get their heads into the right space.' Although there had been huge advances in contraceptive availability in last decade, John Skibiak made the point that much work remains to be done to analyse the remaining commodity gaps. Donors and countries alike, as well as the private sector, need to play a part to ensure access to and continuity of affordable supplies.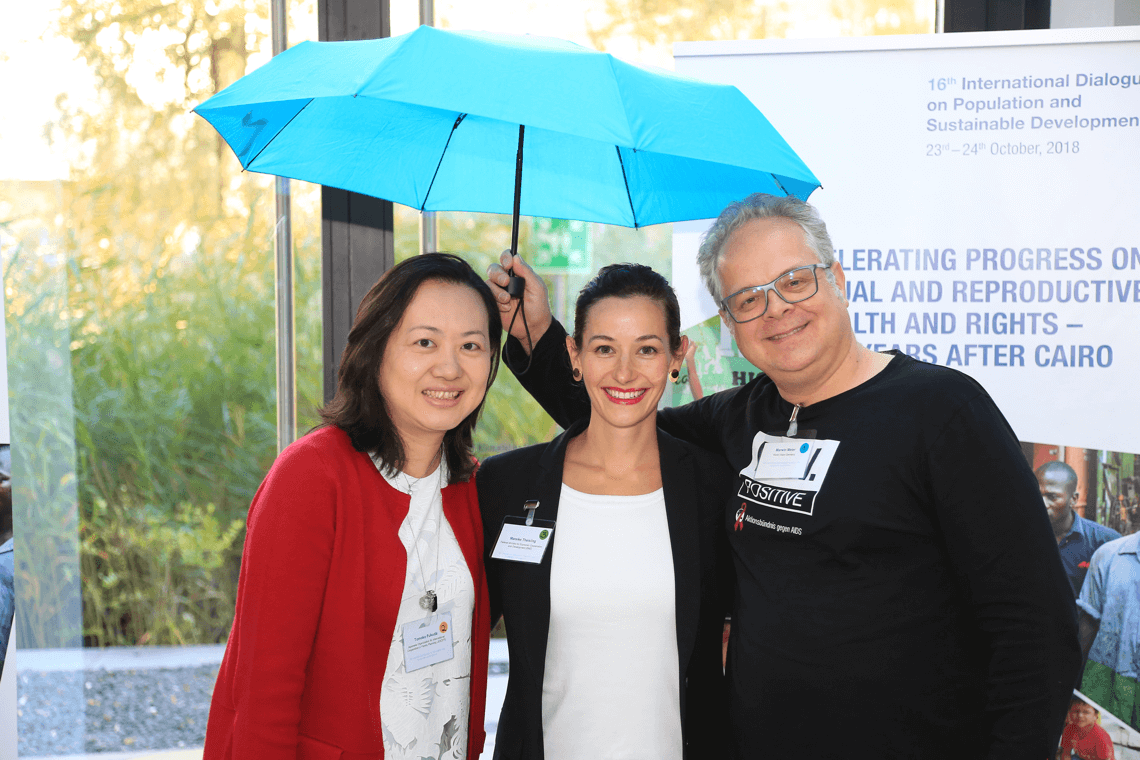 By using the metaphor of an umbrella, Marwin Meier, Board Member of UHC2030 the global movement to strengthen health systems for universal health coverage (UHC), encouraged participants to align themselves for improved coordination on SRHR related issues. He emphasised the need to ensure that no one is left behind in the evolving UHC frameworks.
The discussion also focused on how the gaps between the demands by advocates and the availability of commodities can be addressed, to ensure coverage for everyone. Several participants said they thought working in 'silos' rather than collaboratively sometimes perpetuated these gaps. They emphasised the need for cross-sectoral collaboration and sharing of information to promote SRHR in the future.